HEROIC POLICE OFFICER RECOVERS IN HOSPITAL AFTER SAVING ALL OF THE ANIMALS FROM PET CENTER FIRE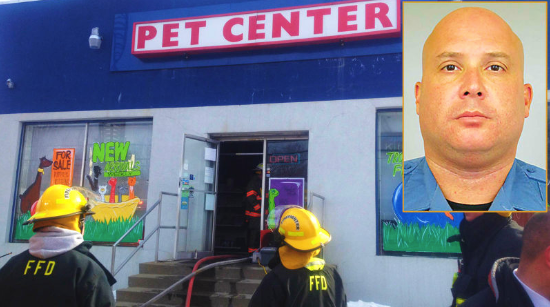 A police officer is the talk of New Jersey after he heroically ran into a burning building to save dozens of animals. When the Route 23 Pet Center burst into flames, police and fire were called out to the location.
Officers Rafael Burgos and Jeffrey Korger were first to arrive on scene. The fire had clearly grown to its more advanced stage and there wasn't much time. Officer Burgos jumped into action and rushed the fiery building.
After the officer found no humans inside, he turned towards the animals. He rescued dogs, cats and more as the entire building became worse and worse with fire and smoke. His courage and bravery saved several pets and a nearby veterinary hospital was able to take them in and treat them.
Not everyone is complimenting him for his actions. One senior member of the local council criticized his actions saying, "A police officer who decides to enter a hazardous situation without proper training. Without proper equipment, where no human life is at risk, isn't a hero, he's a fool…He deliberately placed himself in a dangerous scenario, unnecessarily placed his well-being at risk, and is NOT deserving of 'hero' status, but rather disciplinary action."
The police union is  backing officer Burgos for his heroic actions. They  issued a statement saying, "…[he] is a veteran with 20 years of law enforcement experience… He acted as a dedicated professional, as all the officers of the Fraternal Order of Police Lodge 57 would have done in the same scenario, and will continue to do."
All lives are saved and everyone is getting healthy, but what do you think? Let us know in the comments below and SHARE To get your friends opinion!